Were Panther
Health

400

Attack(s)

Sword Attack 20-40 Damage
Shield Bash 10-20 Damage
Charge 10-20 Damage

Appears in
[Source]
The Were Panther is an enemy found in Hexen II.
Overview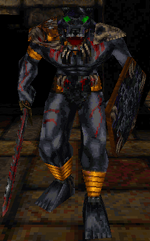 They are only found in the Mesoamerican Hub. Like the
Were Jaguar
, they are quick and but also much stronger and will rush into attack, often when you didn't know one was there. However, they don't have a ranged attack so can be picked of from afar.
Ad blocker interference detected!
Wikia is a free-to-use site that makes money from advertising. We have a modified experience for viewers using ad blockers

Wikia is not accessible if you've made further modifications. Remove the custom ad blocker rule(s) and the page will load as expected.