Were Panther
Health

400

Attack(s)

Sword Attack 20-40 Damage
Shield Bash 10-20 Damage
Charge 10-20 Damage

Appears in
[Source]
The Were Panther is an enemy found in Hexen II.
Overview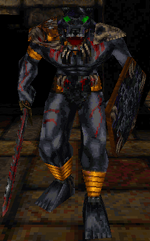 They are only found in the Mesoamerican Hub. They are quick like the
Were Jaguar
, but also much stronger and will rush into attack, often when you didn't know one was there. However, they don't have a ranged attack so they can be picked off from afar.