Were Jaguar
Health

250

Attack(s)

Sword Attack 10-20 Damage
Shield Bash 5-10 Damage
Charge 5-10 Damage

Appears in
[Source]
The Were Jaguar is an enemy found in Hexen II.
Overview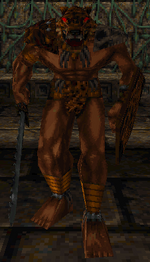 The Were Jaguars are only found in the Mesoamerican Hub. They are quick and strong and will rush into attack often when you didn't know one was there. However, they don't have a ranged attack so can be picked of from afar.
Ad blocker interference detected!
Wikia is a free-to-use site that makes money from advertising. We have a modified experience for viewers using ad blockers

Wikia is not accessible if you've made further modifications. Remove the custom ad blocker rule(s) and the page will load as expected.