The Torch is a support artifact found in Heretic, Hexen and Hexen II.
All Games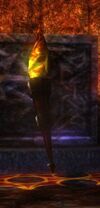 Across all games, it is an inventory item and can be triggered at will. Using it provides extra illumination for 2 minutes. It is particularly helpful when ghosts are about, as it makes them slightly easier to see.
---
Ad blocker interference detected!
Wikia is a free-to-use site that makes money from advertising. We have a modified experience for viewers using ad blockers

Wikia is not accessible if you've made further modifications. Remove the custom ad blocker rule(s) and the page will load as expected.