Tyketto's Tome of Power is a powerup artifact found in Heretic and Hexen II.
Heretic
When invoked, the Tome will increase the power of all weapons for 40 seconds. It can also be used to reverse a Morph Ovum's chicken transformation in multiplayer games.
Hexen II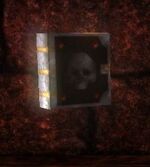 The Tome is rarer in Hexen II, but pretty much essential to have when taking on bosses. Like its predecessors, it temporarily increases the power of all your weapons when invoked.
Notes
Heretic II uses this item as well, but in the form of a spell.
Also, the tome of power guides Corvus. It has a female voice and mentions the other tomes being used to cast a powerful spell.
Raven's 2009 Wolfenstein game contains a number of hidden Tomes of Power, which are collected to enhance some of the player's abilities.
---
Ad blocker interference detected!
Wikia is a free-to-use site that makes money from advertising. We have a modified experience for viewers using ad blockers

Wikia is not accessible if you've made further modifications. Remove the custom ad blocker rule(s) and the page will load as expected.