Plague Ssithra
Health

150

Attack(s)

3-17

Appears in
[Source]
A Plague Ssithra is an enemy encountered in Heretic II.
Overview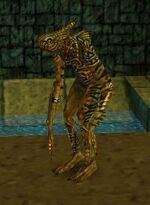 Normally peaceful, the plague has driven these amphibious creatures insane and they will attack on sight. Best to get stuck straight in, particularly against the ones firing arrows.
---
Ad blocker interference detected!
Wikia is a free-to-use site that makes money from advertising. We have a modified experience for viewers using ad blockers

Wikia is not accessible if you've made further modifications. Remove the custom ad blocker rule(s) and the page will load as expected.