The Icon of the Defender is a powerup artifact found in Hexen and Hexen II.
Hexen
In Hexen, the Icon grants invulnerability to the user for 30 seconds. Daedolon and Parias have additional effects using it.
With the Icon active, Parias flickers between being partially and totally invisible. While invisible, projectiles pass through him.
Daedolon reflects all projectiles with the Icon active.
Hexen II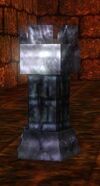 To be Added
---
Ad blocker interference detected!
Wikia is a free-to-use site that makes money from advertising. We have a modified experience for viewers using ad blockers

Wikia is not accessible if you've made further modifications. Remove the custom ad blocker rule(s) and the page will load as expected.