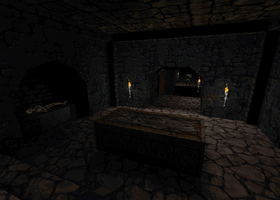 Blackmarsh is the first hub of Portal of Praevus.
Overview
This hub takes the player to the medieval land of Blackmarsh once more, and focuses on finding the portal to the mysterious land of Tulku. It is hidden in the crypts deep below an unnamed Duke's castle. It appears that the wizard Razumen was aware of the portal's existence and tried to gain access to it - the player will follow in Razumen's footsteps throughout most of the Hub.
The puzzles faced by the player will involve finding the way to the Duke's Keep, breaching the magically sealed catacombs door, and eventually defeating the portal's fearsome guardian in order to use the portal to the next step of the adventure.
---
Ad blocker interference detected!
Wikia is a free-to-use site that makes money from advertising. We have a modified experience for viewers using ad blockers

Wikia is not accessible if you've made further modifications. Remove the custom ad blocker rule(s) and the page will load as expected.