G'Krokon
Health

50

Attack(s)

Bite 5-10 Damage
Acid Ball 10-15 Damage
Acid Spit 20-25 Damage

Appears in
[Source]
A G'Krokon is an enemy encountered in Heretic II.
Overview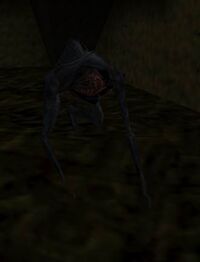 They are nasty little creatures that nibble at the legs and spit a lot. Best taken out at a distance otherwise otherwise Corvus will take serious amounts of acid damage.  However, they are not very tough.
---
Ad blocker interference detected!
Wikia is a free-to-use site that makes money from advertising. We have a modified experience for viewers using ad blockers

Wikia is not accessible if you've made further modifications. Remove the custom ad blocker rule(s) and the page will load as expected.