American's Legacy
'Heretic'
Information
Episode
Statistics
Secrets

?

Map
{{{map}}}
Level Chronology
Previous
[Source]
American's Legacy
is the unofficial name of the third and final level of
Episode 6
in
Heretic
. The level can only be accessed via cheating or command-line parameters.
It is primarily meant for Deathmatch, and is thus fairly non-linear. The level does not have an exit and is the point where the player's adventures in this episode end.
Walkthrough and Secrets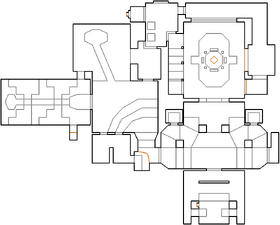 To be Added
Gallery
To be Added
Single-Player Stats
To be Added
Multiplayer Stats
To be Added
Notes
In the original three-episode version of Heretic, this map appeared as the sole "hidden" level in the game - E4M1.
Placing an exit in the level with a map editor will merely cause the game to crash upon completion.
The level is named after game designer American McGee who was the author of IDMAP01 - a standalone deathmatch map for Doom II. E6M3 is based on the design of IDMAP01, however it adds monsters, making it playable in Single Player mode.
External Links
---
Ad blocker interference detected!
Wikia is a free-to-use site that makes money from advertising. We have a modified experience for viewers using ad blockers

Wikia is not accessible if you've made further modifications. Remove the custom ad blocker rule(s) and the page will load as expected.