The Water Shrine
'Heretic'
Information
Episode
Statistics
Secrets

?

Map
{{{map}}}
Level Chronology
Previous
Next
[Source]
The Water Shrine
is the unofficial name of the second level of
Episode 6
in
Heretic
. The level can only be accessed via cheating or command-line parameters.
The level begins in a flooded area with numerous strong water currents, as well as several tunnels and switches that need to be activated. Above looms a series of ledges and the entrance to a large temple-like area, which also conceals a series of tunnels behind its altar.
Walkthrough and Secrets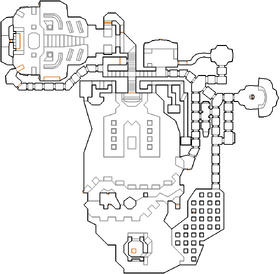 To be Added
Gallery
To be Added
Single-Player Stats
To be Added
Multiplayer Stats
To be Added
Notes
To be Added
External Links
Ad blocker interference detected!
Wikia is a free-to-use site that makes money from advertising. We have a modified experience for viewers using ad blockers

Wikia is not accessible if you've made further modifications. Remove the custom ad blocker rule(s) and the page will load as expected.