Dark Bishop
Health

130

Attack(s)

Magic missiles (1-5)
Melee attack (6-30)

Appears in
[Source]

The Dark Bishop is pretty easy to kill if you can catch them as they fade out of sight and appear somewhere else. Their attacks are dangerous as they fire a steam of fireballs which slowly home in on the player. Fortunately, each fireball does only a small amount of damage. In addition, their death will result in an explosion for moderate damage, unless they are frozen by the Mage's Frost Shards. Thus, in a battle with Dark Bishops you will almost always take damage so try to have a Quartz Flask at the ready. The are generally in groups which makes taking them out even trickier, so don't stand still.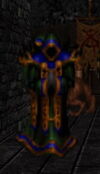 Ad blocker interference detected!
Wikia is a free-to-use site that makes money from advertising. We have a modified experience for viewers using ad blockers

Wikia is not accessible if you've made further modifications. Remove the custom ad blocker rule(s) and the page will load as expected.